Concrete Driveway Designs & Options That Truly Impress.
Check out our range of Concrete Driveway photos in Sydney.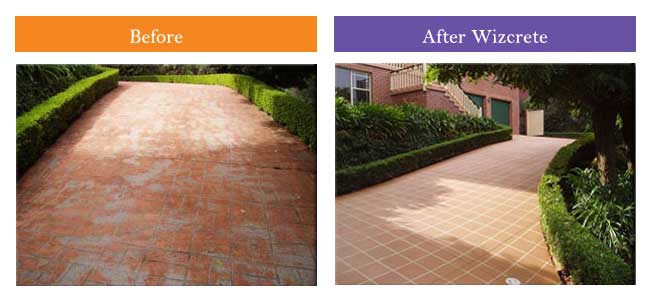 Impressive concrete options available for your Sydney concrete driveway
Many homeowners in Sydney select coloured concrete for their driveways, picking from the many colours available. It is better to select a dyed concrete rather than an acid stained one, as the colour will be more uniform throughout the entire installation, and not simply giving a "marbled" look as an acid stain would. Wizcrete can offer homeowners in Sydney a large variety to choose from. This allows you to match the driveway to the colour palette of your home and landscape.

Choose from a range of modern patterns for your concrete driveway
Colour is not the only design choice – homeowners can also select different concrete patterns for the driveway. One very popular pattern is stamping. When concrete is stamped it is made to look like brick, tile, flagstone, and sometimes wood. The pattern is stamped into fresh concrete, making the installation look like something fancier. Homeowners can thus achieve the look of stone, brick, or tiles without having to deal with the high cost and maintenance that comes with these options.
The colour selected and the stamp or pattern chosen can complement each other to create a fancy or traditional look for your home. You can also add different kinds of patterns depending on what you want to express; these methods include engraving and stenciling. If your driveway has cracks in it, you can mask them by working them into the pattern, perhaps making the concrete resemble stone.
Installing your new concrete driveway
Installing concrete is quite easy. In the first step, coloured or colourless concrete is poured. While the concrete is still fresh, it is stamped with the pattern you have selected. Though stamped concrete is especially good for driveways, it is also used in other projects, such as patios, courtyards, pool decks, and more.
Installing concrete can be difficult for the homeowner who doesn't have the skills, experience, and tools to do the job right. If hiring a contractor to do the work, make sure he or she is skilled at creating a secure foundation below the driveway. A faulty sub-base will compromise the structural integrity of the entire project, potentially leading to concrete cracking. Thus, the contractor needs to take a lot of care to properly install the foundation of the driveway.
If you are based in Sydney then our qualified, professional contractors can look after your new concrete driveway ensuring your sub-base is done correctly the first time. Be sure to check out our outrageous triple guarantee so you know you'll be satisfied with the end result. For a free quote call us at the number below.
The Consumer Guide Ebook
The Consumer Guide to Installing a New Concrete Driveway in NSW.
Don't Even Start Without Reading This Ebook.
Chapter 1: Introduction
Chapter 2: Understanding Your Needs
Chapter 3: Preparing the Site
Chapter 4: Getting the Right Permits
Chapter 5: Water Drainage System
Chapter 6: Concrete Mix Design
Chapter 7: Reinforcing the Concrete
Chapter 8: Pouring and Shaping
Chapter 9: The Curing Process
Chapter 10: The Importance of Concrete Expansion Joints in Driveways
Chapter 11: Sealing and Maintenance
Chapter 12: Common Problems and Solutions
Chapter 13: Contracts and Legal Issues
Chapter 14: The Conclusion